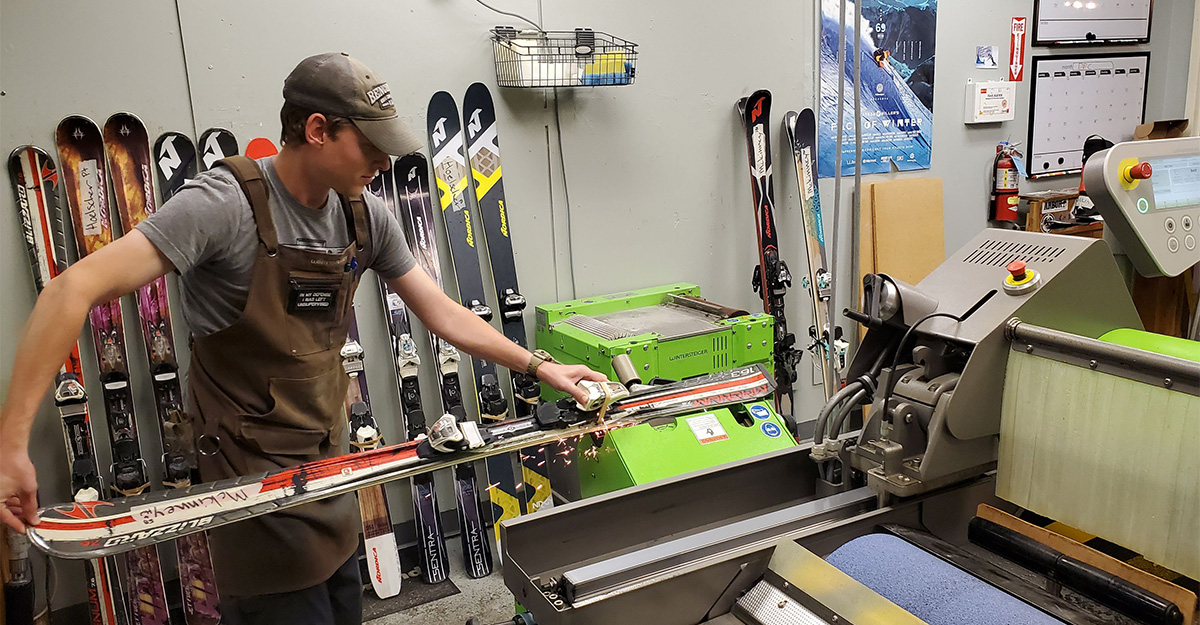 All work is done by certified technicians on professional Wintersteiger equipment. We're proud to feature brand new state-of-the-art equipment this winter season! Our certified shop technicians are highly experienced and respected in their craft.
Normal turn-around times vary during the season, but please expect around four days during our heaviest ski season - January and February. If you are in an absolute rush, we may be able to expedite your service for a small fee (Please note: we will do everything possible to get your work done for you precisely when you want it. However, during extremely busy weeks, this may not be possible.).
All services are performed in our Kirkwood, Mo location. If you live closer to our Columbia or Chesterfield locations you can also drop them off there. If dropped off at another location it will require a couple extra days to complete the work as the items will need to be transferred.
We take enormous pride in our work and in our reputation as the best ski shop in Missouri. Please contact us at customercare@alpineshop.com with any questions or comments.
Thanks!

Precision Tune
Want the ultimate experience for your gear? This tune makes skis and boards as close to new as possible.
Professionally structured base by stone grinding
Base Beveled / Flattened
Hand Base & Side Edge Beveled /Sharpened
Ptex or Epoxy Repair (up to 8 inches of Ptex)
Hand Hot Wax
JUST: $69.95
Sharpen and Wax Basic Tune Package
Save some cash. We clean up & polish the base before making those edges sharp!
Base Beveled/conditioned
Machine Base and Edge Beveled/Sharpened
Machine Hot Wax
JUST: $39.95
Ptex/Epoxy Base or Topsheet Repair
For those times when the snow wasn't perfect and you end up with damage to your gear... This service starts at $9.95 and goes up depending on what is needed to completely repair your ski or snowboard. We'll give you a quote for the damage when you come in.
Starts at $9.95
Sharpen & Wax Services
Edge Beveled & Sharpened
Wide Range of Base Bevels
Sharpened & Polished
JUST: $29.95
Hot Wax
Wide Range of Temps
Hand Worked into Base
Race Polish
Lasts an average of 8-10 days (conditions dependent)
JUST: $19.95
Machine Wax
Equipment cleaned
Machine applied wax
Lasts an average of 1-3 days of skiing (conditions dependent)
JUST: $9.95
Storage Wax
Protects from moisture and rust in off-season
Hand worked into base
Scraped prior to start of next season
JUST: $19.95
Rust Removal
Cleans the rust off the edges, all rust must be removed before skis can be tuned
Starts at $4.95
System Ski Binding Mount
Binding Mount
Function & Release Test
Skis purchased at Alpine Shop: Just $24.95
Without purchase: $39.95
Flat Ski Binding Mount
Binding Mount
Function & Release Test
Skis purchased at Alpine Shop: Just $39.95
Without purchase: $59.95
Binding Adjustment
Adjust your current binding mount to a new boot size (does not include flat ski remount)
Function & Release Test
JUST: $29.95
Function and Release Test
Test that the binding will release at the correct pressure
JUST: $14.95
Snowboard Binding Mount
Binding Mount
JUST: $9.95