SHIPPING ALERT:
An Unprecedented Increase In Online Shopping Will Create Delays.
LEARN MORE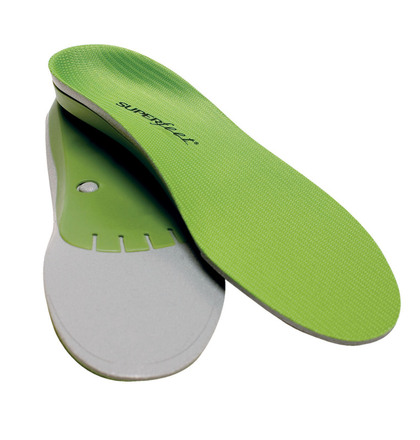 Now Viewing:

Default
Superfeet Wide Hiking Insoles - Green
Our Price


$49.95



Item # 150
Description
Item Specs
Product Reviews
Superfeet WIDE GREEN is the same reliable shock absorbing insole as the Superfeet GREEN, but the design supports wider feet in wide footwear from size 3E-6E
It is ideal for footwear with a removable insole and is the recommended choice for maximum support and shock absorption.
Features:
Ideal for wide feet with medium to high arches
Deep Heel Cup - Features the widest and deepest heel cup that offers maximum support and can help with natural shock absorption.
Biomechanical Shape - The contoured shape features the most support for wide feet, which can help reduce stress on feet, ankles and knees.
Wide Forefoot - Matches the shape of a wide foot and footwear size 3E to 6E.
Organic, Odor-Control Coating - All natural coating that eliminates odor-causing bacteria.
Fit Profile: High and Wide - High-profile insole size 3E to 6E with the shape that offers the widest and deepest heel cup for maximum support.
Fits Best In: High Volume - All types of medium and high-volume footwear with removable insoles that range from running shoes to casual footwear to work or hiking boots.
Average of 2 customer reviews:
---
Aubrie S. employee
OFallon, IL
November 2016
A great sight for soar feet!
4
/
5
Avg. Product Rating
Age Range:
13-25
Gender:
female
How Long Have You Been Using This Product:
Less than 1 month
Tried these new insoles in a pair of boots that have always hurt my feet on long days and it felt so great to have extra support! The deep heal cup help my foot in place and the arch hit me in just the right spot! It felt odd at first that the arch of the insole did not follow the entirety of my foots arch, but as I started walking in it I wouldnt have it any other way. Make sure not to wear them too long at once when you first get them! Your poor feet arent ready! The sizing for me was a bit off. I wear a 10 in shoes but took a 9 in the insole. Other than that I have no complaints!
---
alex komes-alpine
St. Louis
September 2015
great support
5
/
5
Avg. Product Rating
Age Range:
13-25
Gender:
male
How Long Have You Been Using This Product:
Less than 1 month
It fits well for my wide feet and gives me more support than my significant other has ever given me!
---