SHIPPING ALERT:
An Unprecedented Increase In Online Shopping Will Create Delays.
LEARN MORE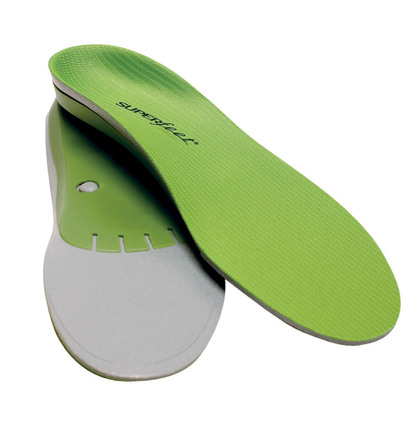 Now Viewing:

Default
Superfeet Hiking Insole - Green
Our Price


$49.95



Item # 140
Description
Item Specs
Product Reviews
Superfeets undisputed heavyweight champions, GREEN insoles havent changed much since their design in 1977. Why? Because they work. The GREEN offer affordable, professional-grade orthotic support, performance and comfort for anyone who wants their footwear to fit and feel better.
Features:
Deep Heel Cup - Features the widest and deepest heel cup that offers maximum support and can help with natural shock absorption.
Biomechanical Shape - Has the most shape to help stabilize and support the foot, which can help reduce stress on feet, ankles and knees.
Organic, Odor-Control Coating - All natural coating that eliminates odor-causing bacteria.
Superfeet GREEN insoles are vegan and free of latex, nickel sulfate, formaldehyde and preservatives.
Fit Profile: High - High-profile insole with the shape that offers the widest and deepest heel cup for maximum support.
Fits best in: High Volume - All types of medium and high-volume footwear with removable insoles that range from running shoes to casual footwear to work or hiking boots.
Average of 2 customer reviews:
---
Beth R. - Staff Review
OFallon, IL
July 2015
Saving my feet!
4
/
5
Avg. Product Rating
Age Range:
45-54
Gender:
female
I've been using the Green insole for over a year now and my feet have really been thanking me for it! Working in the OFallon store, we have a hard concrete floor to deal with. Hard to walk on and hard on the hips and back. Wearing the insoles has helped me a lot! My back doesn't ache when I get off work and my heels don't ache either. I wish they were a little softer and maybe sqooshier (Is that even a word!) I may be trying one of the other insoles that has a softer foam soon!
---
Melissa W - Staff
OFallon, IL
September 2016
Quality shoes wherever you go
4
/
5
Avg. Product Rating
Age Range:
26-34
Gender:
female
How Long Have You Been Using This Product:
1-3 months
I don't know if I'm just getting older, or the surfaces I walk on more often now, but I really appreciate a good supportive shoe. I think everyone could benefit from Superfeet, especially if you spend long hours on your feet on hard surfaces. You may not have particular foot pain or anything, but it really just adds so much to the fit and function of your shoe. Get the right size and style and your shoes will fit better! It fills in the loose gaps and hugs your foot. You feel more stable for sure, and it makes even lesser shoes feel more whole over all. They are definitely worth a try, with their 60 day no questions asked guarantee, why not give a pair a try and see if they make a difference for you!
---