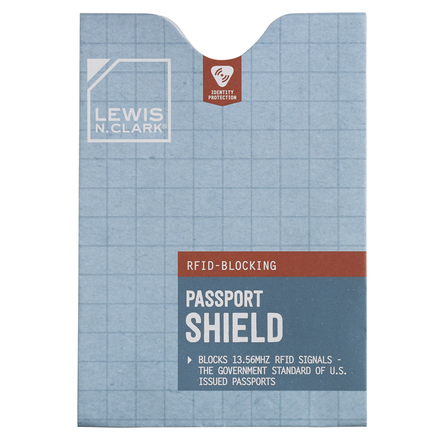 Now Viewing:

Default
RFID Passport Shield
Our Price


$4.49



Item # 1207
Description
Item Specs
Product Reviews
RFID (Radio Frequency Identification) chips are used in all US passports created after 2006 and in over 35 million credit cards. RFID chips are also used in hotel keys; electronic gate or door keycards; and government, military and port of entry ID cards. The technology was designed to let us bypass the standard requirements of scanning or checking in. However, electronic identity thieves have undermined the security of RFID products by devising scanners that read your personal information without you even realizing it. Blocking 13.56MHz frequencies, the standard for most credit cards and passports, items such as this one have allowed individuals to protect themselves from this kind of pickpocketing.
Features:
Lightweight and compact protection
Fits US passports
Tear and wear-resistant
Average of 1 customer reviews:
---
Abby H. - Staff
Chesterfield
July 2018
Easy to Use
4
/
5
Avg. Product Rating
Age Range:
13-25
Gender:
female
How Long Have You Been Using This Product:
Less than 1 month
I just returned from a trip abroad for which I used this shield. As far as Im concerned it worked well to prevent any theft from occurring. For what the product is I found it easy to use`;` the passport slipped in and out easily although by the end of the trip there was a small tear at the top from removing the passport frequently. Definitely a worthwhile purchase for the peace of mind it provides though.
---