Home // Men's // Socks //
Light Hiker Crew Sock - Unisex (Item #F1002)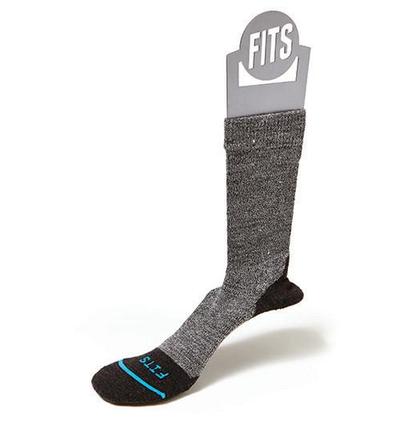 Now Viewing:

Default
Light Hiker Crew Sock - Unisex
Our Price


$20.99 to $21.99



Item # F1002
Description
Item Specs
Product Reviews
This hiking sock features light cushioning along the bottom and a deep heel cup to make sure it stays in place. Crew length and made of merino wool to keep your feet trucking along with ease.
Features:
Dynamic Toe Cup - contours to the shape of your toes
Heel Lock - super deep heel pocket with ample cross stretch locks the sock on your heel
Full Contact Cuff - stays in place due to a tighter ankle and looser calf (proper gradience)
Crew Length just below calf
Lightweight design with cushioning only on the bottom of your foot
Double-welted top so the sock always stays up and doesnt bind or slip.
Color-coded seam on toe so you wont forget your size.
Fabric:Merino Wool 65%, Nylon 27%, Polyester 6%, Lycra 2%
Height:Crew height rises just below the calf.
Cushion:Extra cushioning in the heel, toe and the arch.
Average of 3 customer reviews:
---
Ian L. - Staff Review
St. Louis, MO
August 2015
Best Socks
5
/
5
Avg. Product Rating
Age Range:
26-34
Gender:
male
These are the best wool socks available. I used to wear Smartwool but kept getting holes in the toe area. I started wearing these and they are a lot more durable and haven't had the same issue at all. They also use a softer wool than Smartwool.
---
Sadie - Staff
Columbia, MO
July 2016
They Really Do Fit Great!
4
/
5
Avg. Product Rating
Age Range:
26-34
Gender:
female
How Long Have You Been Using This Product:
1-3 months
These are a great fitting pair of socks. They have added cushion in the heel and toe and extra breathability everywhere else. My favorite part about the Fits brand is the articulated heel!
---
Beth R. - staff
Alpine Shop - OFallon, IL
September 2015
Best socks EVER!
5
/
5
Avg. Product Rating
Age Range:
45-54
Gender:
female
How Long Have You Been Using This Product:
More than 2 years
I have been wearing these socks for 3 years now and I will never wear any other hiking sock again! Most socks are just too lumpy for my boots and tend to sag around my ankles. Not so with FITS light hikers. These socks have a triangular toe box that keeps extra fabric from bunching up around your toes. The ball and heel are nicely padded with the heel having a fit, pun intended, like no other sock on the market. The heel has a Y stitching that doesn't allow the padding to thin as the sock is stretched over your foot. Best of all is the light gradual compression that keeps the socks up all day! LOVE these socks!! Also the ladies socks are in adorable colors.
---