SHIPPING ALERT:
An Unprecedented Increase In Online Shopping Will Create Delays.
LEARN MORE
Home // Run // Socks //
Fits Light Runner Low Sock - Unisex (Item #F3001)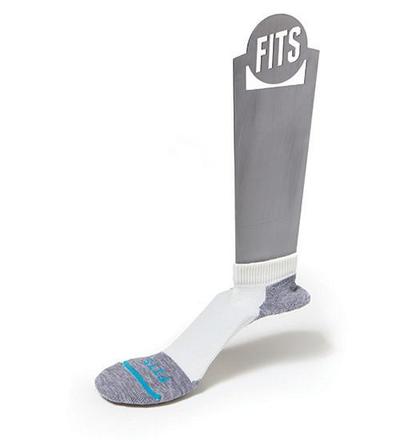 Now Viewing:

Default
Fits Light Runner Low Sock - Unisex
Our Price


$17.99



Item # F3001
Description
Item Specs
Product Reviews
This low cut running sock hits the sweet spot. This sock really stays put and doesnt want to slide down into your shoe anymore than you want it to. With cushioning only in the heel and toe this sock wicks amazingly and keeps you comfortable.
Features:
Dynamic Toe Cup - contours to the shape of your toes
Heel Lock - super deep heel pocket with ample cross stretch locks the sock on your heel
Full Contact Cuff - stays in place due to a tighter ankle and looser calf (proper gradience)
Low Cut Just below ankle
Ultra-Lightweight design with cushioning only in heel and toe for the ultimate in performance without movement or binding.
Color-coded toe seam so you wont forget your size
Perfected design so your shoe will never eat this sock!
Contents:
Wool . . . . . . . . . . 73%
Nylon . . . . . . . . . .21%
Polyester . . . . . . . .4%
Lycra Spandex . . .2%
Average of 1 customer reviews:
---
Annie W
Kirkwood Staff
November 2020
Love the cushioning
5
/
5
Avg. Product Rating
Age Range:
35-44
Gender:
female
How Long Have You Been Using This Product:
1-3 months
When I work from home, Im on a wood floor at a standing desk. The cushioning on this sock is spectacular and hleps with my "foot fatigue." They dont slide down my heel or budge in anyway. Highly recommended!
---