SHIPPING ALERT:
An Unprecedented Increase In Online Shopping Will Create Delays.
LEARN MORE
Home // Paddle // Dry Bags and Boxes //
Sea To Summit Dry Sack - 13 Liters (Item #165)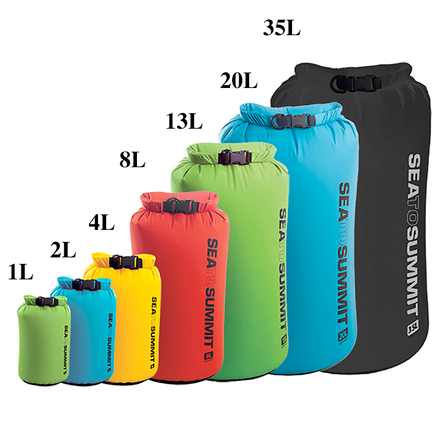 Now Viewing:

Default
Sea To Summit Dry Sack - 13 Liters
Our Price


$24.95



Item # 165
Description
Item Specs
Product Reviews
A less expensive and less bulky alternative to traditional dry bags. You can squash these into spots ordinary heavy dry bags wont go. Fits into little corners of a sea kayak or light enough to take backpacking or adventure traveling. Suitable to keep contents dry in any wet situation where the bag is not submerged.
Proper Use:
Any roll-top dry sack must be closed properly to ensure water cant get in. Begin by folding the Hypalon strip down first and be sure to have at least three rolls before closing the buckle.
Avoid contact with sharp objects or subjecting the sack to high abrasion, as this could compromise the waterproof fabric.
Like all manufacturers of roll-top, fabric dry sacks, Sea to Summit recommends that sensitive electronic devices be double bagged (i.e. putting electronics inside one dry sack then placing this inside a second dry sack). For maximum protection, the use of a waterproof hard case should be considered.
Not intended for situations where dry sack will be submerged under water.
***Product is in assorted colors. No color is guaranteed but you may request a color in the notes at checkout and we will fufill it as is available.***
***Image shown has multiple products. Only one item will be shipped***
Materials: 70D Nylon
Weight: 3.3oz/95g
Height: 21 in
Base Diameter: 8.6in
Volume: 13 liter
Average of 1 customer reviews:
---
Austin M - Staff Review
Alpine Shop Chesterfield
June 2015
My go-to for dry gear
5
/
5
Avg. Product Rating
Age Range:
13-25
Gender:
male
How Long Have You Been Using This Product:
More than 2 years
I know that I can count on my dry sack to keep my gear dry when it matters most. Nothing is worse than finishing a long day on the river and finding that you cant use the gear you're counting on. With my dry sack this is no longer an issue, moisture stays out and my gear is always just how I left it. I love how lightweight the bag is, and the fool-proof closure system. It is even easy to use with cold, wet hands at the end of an exhausting day. I would really recommend the Sea to Summit dry sack to anyone looking for a lightweight dry bag!
---