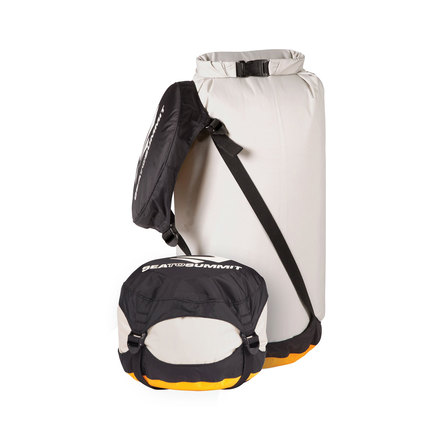 Now Viewing:

Default
eVent Compression Dry Sack - Small
Our Price


$36.95



Item # 292
Description
Item Specs
Product Reviews
A completely new concept in compression dry bags - there is no valve. This innovation uses an air-permeable base made of eVent waterproof fabric, which allows air to be pushed out of the sack, but wont allow water to get back in. Suitable to keep contents dry in any wet situation where the bag is not submerged.
Features:
Unique compression idea - allows air to be pushed out to compress, but water cant get in because of the waterproof, air permeable eVent fabric base
Rugged 70 D nylon body & lid
Waterproof seams - double stitched and tape sealed
Roll top Hypalon; closure with lid and 4 straps evenly compresses and maintains compressed size
Reinforced stitching on all stress points
Pull handle on the bottom
Super compact and very light
***Not intended for situations where dry sack will be submerged under water.
***Image shown has multiple products. Only one item will be shipped***
Material: 70D EVent Nylon
Weight: 4.5 oz/129g
Base Diameter: 7 in
Height: 16 in/40cm
Volume: 10 liter
Average of 1 customer reviews:
---
Paul K - Staff Review
Chesterfield, MO
April 2015
Peace of mind
5
/
5
Avg. Product Rating
Age Range:
13-25
Gender:
male
How Long Have You Been Using This Product:
More than 2 years
I use this bag to keep down sleeping bags in. It is easy to stuff into and compresses well due to the e-vent material which lets out air but keeps water out. I never worry about my sleeping bag getting wet when keeping it in one of these and I can always pack my bag down as small as possible without a struggle.
---