SHIPPING ALERT:
An Unprecedented Increase In Online Shopping Will Create Delays.
LEARN MORE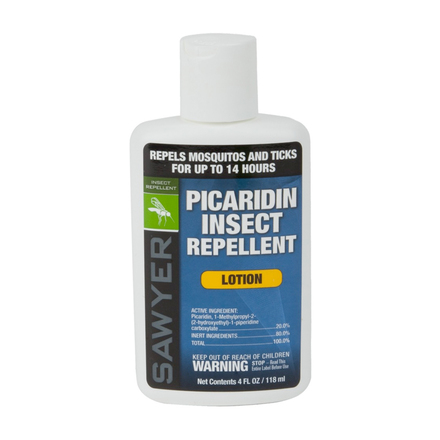 Now Viewing:

Default
Sawyer Picaridin Insect Repellent Lotion - 4oz
Our Price


$9.99



Item # SP564
Description
Item Specs
Product Reviews
Sawyer Fishermans Formula Picaridin Insect Repellent has a similar effect to DEET, but it wont harm gear and equipment. Picaridin repels mosquitoes (including the species that transmits the Zika Virus) and ticks as well as biting flies, stable flies, black flies, gnat, chiggers, and sand flies. At 20% active ingredient Picaridin; this long lasting topical insect repellent is effective up to 14 hours (lotion) and 12 hours (spray) against mosquitoes and ticks, and up to 8 hours against biting flies, gnats, chiggers, and sand flies.
Features:
Picaridin is more effective at repelling biting flies than DEET
Our 20% Picaridin is virtually odorless; it even has a mild citrus scent added to it which evaporates when dry
Sawyer Picaridin Repellent will not harm gear or equipment
Effective for up to 14 hours (lotion) or 12 hours (Spray)
Use with confidence on the whole family
Effectiveness: Effective for up to 14 hours (lotion) or 12 hours (Spray)
Average of 2 customer reviews:
---
Lindsay B.- staff
Chesterfield, MO
April 2017
a great alternative to deet
5
/
5
Avg. Product Rating
Age Range:
26-34
Gender:
female
How Long Have You Been Using This Product:
More than 2 years
First off, let me start by saying that mosquitoes love me. When I started looking into spending more time in the back-country hiking, I knew I needed a insect repellent suitable for the job. What I like about this one specifically is that it uses picaridin, not DEET. While DEET is known for being a great repellent, it can also potentially dissolve plastics or other synthetics, found in clothes and hiking gear. I also like that this is a lotion which I prefer to a greasy spray. I noticed that it stays on great after fording trough rivers too. And with amount of ticks we have here in Missouri, I can walk confidently through the woods with my picaridin shield!
---
Derek G.
Manhattan, KS staff
September 2017
only insect repellent I use
5
/
5
Avg. Product Rating
Age Range:
13-25
Gender:
male
I've used this product for a little over a year now and I absolutely love it. It works like a charm. I took it to Costa Rica over the summer for a two week trip. Whenever I had this product on I never got bit. I even went on a hike in the jungle and didn't get bit because I had this product on. For being a lotion, it surprisingly does not make you feel sticky and it also does not leave you with a bad smell which is also nice.
---