Home // Paddle // Essentials //
Gear Tie 18 Inch 2 Pack (Item #GT18-2PK)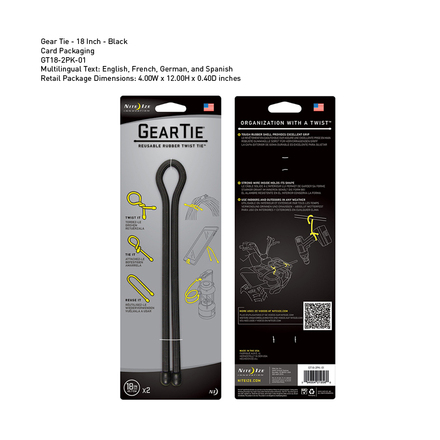 Now Viewing:

Default
Gear Tie 18 Inch 2 Pack
Our Price


$5.99



Item # GT18-2PK
Description
Item Specs
Product Reviews
The 18 Nite Ize Gear Tie is the perfect size to wrap and organize medium-to-large appliance cords and wires. Keep your jumper cables, extension cords, dog leashes, and larger electric cords neat and untangled with a quick simple twist
Features:
Available in the following colors: Black, Blue, Lime, Red, Desert Tan, Foliage Green, Coyote Brown, Dark Navy Blue, Bright Orange, Neon Yellow and Neon Pink
Gear Tie Tube Combination Pack is available featuring a handy assortment of Gear Ties in a reusable storage tube. Twelve Gear Ties included: 3 x 3, 3 x 6, 2 x 12, 2 x 18, and 2 x 24 Gear Ties in assorted colors
Gear Tie Box Combination Pack is available featuring a handy assortment of Gear Ties. 8 Pack Assortment contains one of each: 3 Black, 3 Red, 6 Black, 6 Blue, 12 Black, 12 Lime, 18 Black and 18 Orange
Now available in a Pro Pack featuring 6 units (Black, Orange, and an assortment of Black, Bright Orange and Neon Yellow.)
Use Gear Ties in the garage, on the boat, in the home, and in countless other places where things need to be secured and organized
Waterproof and safe for use in fresh or salt water without damage
UV resistant - will not be damaged or destroyed by extended sun exposure
Tough rubber shell provides excellent grip
Use indoors and outdoors in any weather
Strong wire inside holds its shape
Wont scratch or mark
Twist it, tie it, reuse it
Dimensions: 18.00 in x 0.40 in x 0.40 in | 457.20mm x 10.26mm x 10.26mm
Weight: 0.71oz | 20.00g
Average of 1 customer reviews:
---
Paul_Staff
St. Louis, MO
December 2017
Works with everything
5
/
5
Avg. Product Rating
Age Range:
26-34
Gender:
male
How Long Have You Been Using This Product:
More than 2 years
We use these for everything at home! We use them to keep our shed nice and organized. Fits extension cords, garden hoses, and Christmas lights keeping our small outdoor space nice and clean.
---