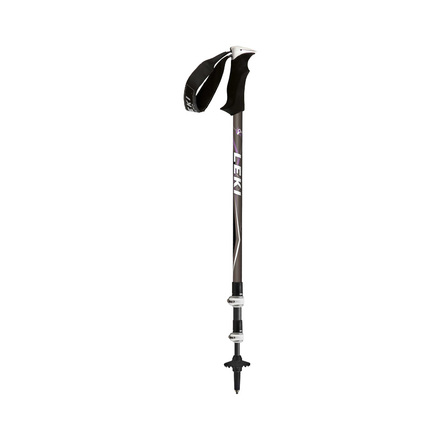 Now Viewing:

Default
Legacy Lady Poles
REG. PRICE
$99.95
SALE PRICE


$74.97 (25% off)



Item # T632-2428
Description
Item Specs
Product Reviews
The Legacy Lady is the culmination of LEKIs 60+ years experience in designing and producing their own trekking poles. Featuring Ultralite, high-tensile strength Aluminum shafts and compact, lightweight Thermo foam grips, Legacy also includes the next generation SpeedLock 2 which is not only smaller and stronger than our previous design, but further reduces overall weight and enhances the swingweight on the trail. Quite possibly the best value on the market as the perfect pole for any hiker anywhere in the world. Overall dimensions specifically engineered for women.
Features:
PAS Thermo foam Compact grip
Security strap system that adjusts and secures strap adjustment without buckles
Ultralite 16mm/14mm/12mm HTS 6.5 Series Aluminum Shafts
SPEEDLOCK 2 adjustment system
Carbide Flextips with interchangeable basket system
Adjustment range 64 - 125cm
Material: Ultralite 16mm/14mm/12mm HTS 6.5 Series Aluminum Shafts
Weight: 16.6 oz per pair
Adjustment Lengths: 64 - 125cm
Design: Extruded
Average of 1 customer reviews:
---
Beth R. - Staff Review
OFallon, IL
June 2015
Just keep trekking!
3
/
5
Avg. Product Rating
Age Range:
45-54
Gender:
female
How Long Have You Been Using This Product:
More than 2 years
My husband gave me a set of these trekking poles as a Birthday gift 2 1/2 years ago. I have been able to hike and explore remote places with a bit more security. I like the clasp style adjustments on the poles as I do not have a lot of grip strength. Sometimes the twist style adjustments are harder to get tight enough so the poles don't collapse. The clasps are great. I wish the handles were a little softer, I guess I need to toughen up my hands! I have about 200 miles of hiking on these poles and more to come!
---