Home // Men's // Gloves and Mittens //
Storm Cuff III Glove - Men`s (Item #1/1600)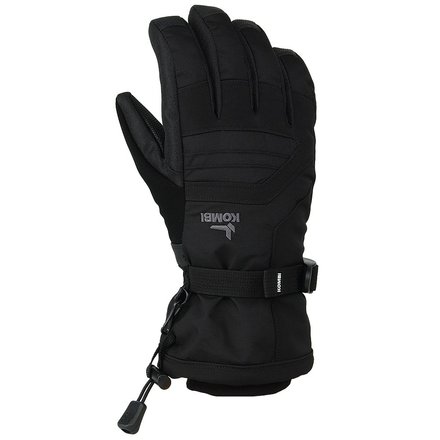 Now Viewing:

Default
Storm Cuff III Glove - Men`s
REG. PRICE
$50.00
SALE PRICE


$39.98 (20% off)



Item # 1/1600
Description
Item Specs
Product Reviews
The Kombi Storm Cuff Glove III keeps you warm, dry and stylish. The outer nylon shell contains Thinsulate™ insulation and Waterguard™ waterproof breathable insert keeping your hands warm and dry. To eliminate taking your gloves on and off during skiing or backyard snowball fights, the Touch sensitive PU thumb and index finger help to answer a call or text with ease. These gloves combine a rocking combo of warmth and function while enjoying the cold.
Features:
Nylon Dobby and 3-Layer Stretch Softshell
Digital-Grip PU Palm
CDR-Stretch dexterity thumb panel
Thinsulate Insulation
Accu-Dri® lining
Waterguard™ waterproof/breathable insert
Dual-Pull gauntlet closure cuff
Soft-Stretch fleece inner cuff
Goggle squeegee on thumb
Ladder-lock wrist cinch with easy-grab rubber tab
Fingertip wrap-cap construction
Soft nose wipe on thumb
Fabric: Waterguard™ is Kombi`s® proprietary waterproof, breathable, windproof glove insert technology. The dynamic barrier allows sweat to get out and prevents water from getting in, keeping hands warmer and drier. Nylon Dobby & 3-Layer Stretch Softshell outer
Insulation: Thinsulate™ insulation offers maximum warmth with minimum bulk for increased dexterity and feel, we are using 4-way-stretching Thinsulate™ flex in some styles
Fit: Ladder-lock wrist cinch with easy-grab rubber tab; Dual-Pull gauntlet closure cuff; Soft-Stretch fleece inner cuff
Average of 1 customer reviews:
---
Stlsnowboarder
St. Louis, MO
January 2016
Good fit but horrible quality
1
/
5
Avg. Product Rating
Age Range:
26-34
Gender:
male
How Long Have You Been Using This Product:
Less than 1 month
I bought these gloves and wore them one time, and after 30 minutes of normal wear at a small ski resort there was a medium sized tear in the left glove, literally put them on and strapped into my board that all i did and they tore. Also after 3 hours of riding and strapping into my board there was a chunk missing from the right glove. Like I said great fit but the quality of these gloves is horrible. I would not suggest these gloves to anyone.
---