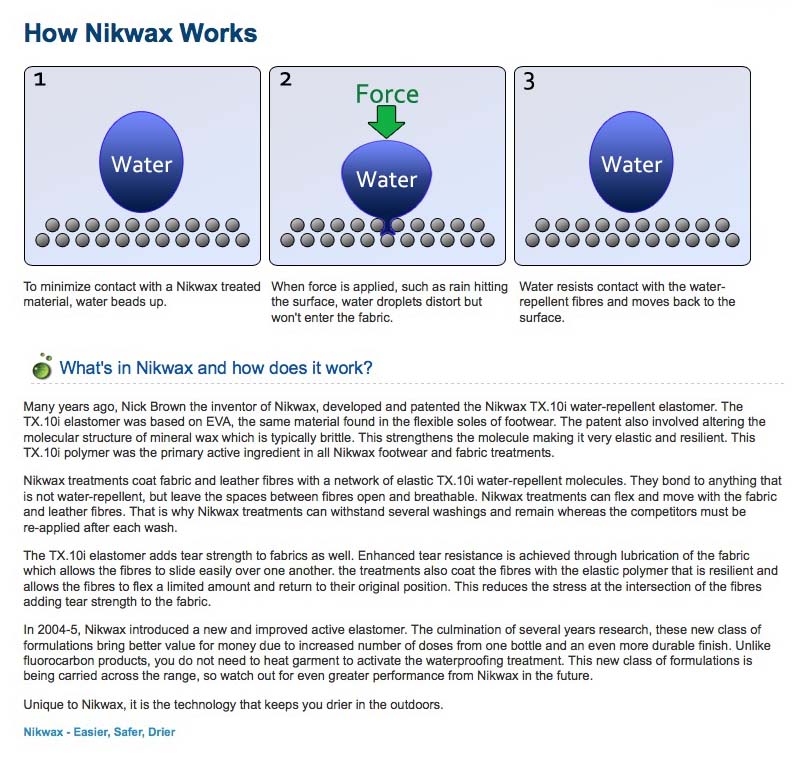 Caring For Waterproof/Breathable Fabrics
A durable water-repellent (DWR) finish is applied to the outermost surface of waterproof/breathable clothing and equipment during manufacture. It prevents the fabric from absorbing moisture by making water bead up and roll off. This minimises condensation forming within and maximises breathability. The DWR finish is not permanent and needs to be maintained to optimise performance, firstly by cleaning regularly with Nikwax Tech Wash, and occasionally reproofing with TX.Direct. Safe for use on Gore-Tex®, SympaTex®, Entrant®, Ultrex®, TriplePoint® and all liner and shell fabrics.
Caring For Fleece and Insulated Garments
Even though synthetic insulating fibres naturally absorb little moisture they can hold substantial liquid within the structure of the knit or weave. This significantly reduces the thermal insulating qualities of the garment. With proper cleaning and the addition of Nikwax Polar Proof you can improve the performance of your insulated clothing-especially in wet or humid conditions. Stay drier, warmer and be more comfortable. Nikwax treatments will not affect the look, feel or breathability of the item. Ideal for use on PolarTec®, Synchilla®, Chinella®, Thinsulate®, LiteLoft®, Primaloft®, Polarguard/ PolarguardHV® and Hollofill®.
Caring For Down-Filled Clothing
Down is an amazing natural fibre that has an unbeatable warmth to weight ratio. It's compressible, resilient and very long lasting if properly maintained. The major drawback of using down-filled clothing is its inability to retain loft and insulate when wet. To optimise the performance of your down-filled garments: 1) clean it regularly with Down Wash and, 2) treat with Nikwax Down Proof. When machine washing always use a front load machine - top loading agitator machines can damage the garment.
Caring For Cotton Clothing
Cotton clothing absorbs considerable amounts of water. Cotton clothing can also be dangerous because when wet it has very poor insulation qualities. "Cotton kills" is the adage of many outdoor enthusiasts because they know that it will contribute to hypothermia in wet, cold conditions. Cotton Proof from Nikwax can add water repellency to cotton, making it safer and more usable in the outdoors.
Click here to return to Nikwax products