Relapse Goggle
---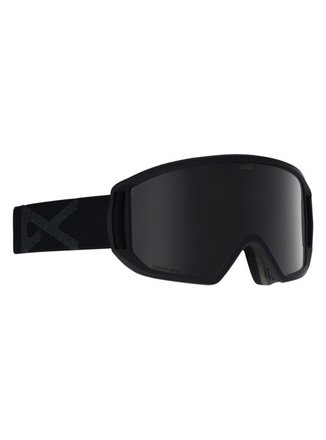 OUR PRICE

$119.95

Avg. Product Rating
PRODUCT DESCRIPTION
You tried experimenting with goofy-looking, oversized goggles, but no matter what, you just keep coming back to the classic look of the Anon Relapse Goggle. It has a low-profile frame with a cylindrical lens, so it sits close to your face for a super-wide field of vision with minimal frame interference. An ICT (Intergral Clarity Technology) anti-fog treatment works with the full perimeter channel venting to keep your lens crystal clear, even when it`s dumping outside.
Features:
Lightweight Thermoplastic Polyurethane (TPU) Frame Ð Thoroughly tested on the hill and in the lab, Anon`s TPU has the highest resistance to abrasion, maintains consistent flexibility in changing temperatures, and has superior elasticity to fit every face shape.
Wall-to-Wall Vision Ð High-performance riding demands the best possible field of vision. Wall-to-Wall incorporates optimal optics, low-profile frames and 40% thinner face foam, producing an ultra-close fit that eliminates the peripheral vision impairments of typical goggle construction. The result is a truly unobstructed viewing experience.
Cylindrical Lens Technology Ð Cylindrical lens construction utilizes de-centered injection technology, which tapers to a thinner profile on the edges for reduced peripheral distortion.
Integral Clarity Technology (ICT) Ð Anon`s ICT anti-fog treatment delivers crystal clear vision, no matter what the elements throw at you. Starting with a porous cellulose inner lens surface for superior water shedding above and beyond standard acetate lenses, Anon applies its chemically etched ICT anti-fog treatment for long-lasting clarity. ICT works in tandem with Full Perimeter Channel Venting to tell moisture to go fog itself.
Full Perimeter Channel Venting Ð Anon`s Full Perimeter Channel Venting ensures maximum airflow, bringing fresh air into the goggle while pulling moisture away from the lens. Full Perimeter Channel Venting works in tandem with ICT to provide clear, fog-free vision in all conditions.
Over The Glasses (OTG) Compatible Ð Anon offers a wide range of frames that can accommodate prescription eyewear worn underneath the goggle, which means never having to sacrifice vision, comfort, or style on the hill.
**To meet the requirements of Proposition 65, it is our responsibility to inform you of the following: WARNING This product may contain a chemical known to the state of California to cause cancer, birth defects or other reproductive harm.