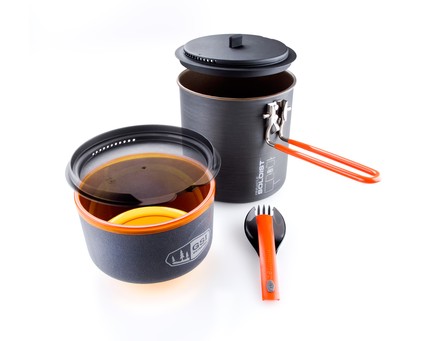 Now Viewing:

Default
Pinnacle Soloist Set
Our Price


$44.95



Item # 50146
Description
Item Specs
Product Reviews
The lightweight, super-compact Pinnacle Soloist cookset includes everything you need to cook and eat those vital carbs while pushing yourself to the extremes. This kit includes a cooking pot, a lid-strainer, Insulated mug/blown, telescoping foon, stove bag and welded sink.
Features:
Folding handle locks into place for cooking and secures entire set for transport, eliminating the need for a stuff sack
Unique mug/bowl solution with low center of gravity and Sip-It virtually eliminates spills while the integrated insulating sleeve keeps drinks hot
Welded stuff sack holds set while traveling and doubles as a sink or wash basin
Integrated nesting allows for stowing of ultralight stoves and fuel canisters (220/110 g)
Coated with Teflon Radiance technology for exceptional non-stick performance
Material: Non-Stick Coated, Hard Anodized Aluminum, Clear Polypropylene, Nylon 6-6
Weight: 10.9 oz
Dimensions: 5 x 5.4 x 5.5 in
Includes: 1.1 L Pot, Strainer/Sip-It Lid, 14 fl. oz. insulated mug/bowl, Telescoping Foon, Stove Bag, Welded Sink
Average of 1 customer reviews:
---
Eric Evans - alpiner
Kirkwood, MO
April 2017
Pinnacle Soloist set
5
/
5
Avg. Product Rating
Age Range:
35-44
Gender:
male
How Long Have You Been Using This Product:
More than 2 years
This a great little all inclusive cooking set for all you adventuring campers. Its lightweight and easily packed. It really has everything you would need. except your food and coffee. Whether your car camping or backpacking, this is a great set to have in your inventory.
---