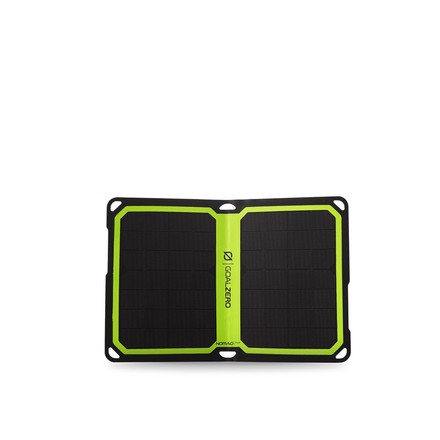 Now Viewing:

Default
Nomad 7 Plus Solar Panel
Our Price


$99.95



Item # 11806
Description
Item Specs
Product Reviews
Ultra lightweight, weather-resistant solar panel enables you to charge handheld USB/12V gear directly from the sun. Use a Goal Zero portable power pack and store power for your gear day or night.
Features
Smart Charging for Phones - The Nomad 7 Plus features an auto restart thats smarter than anything else on the market. With the ability to track power flow history, it knows the difference between a device that has reached a fully charged state and one that disconnects due to environmental causes, i.e. lack of sunlight, shadow, solar eclipse, etc. When the latter is detected, it automatically reconnects the charging device, no extra work on your part is needed.
Rugged and Modular - Detachable kickstand provides optimum angle placement, natural shade for charging devices and a vented pocket for temperature regulation. Weatherproof layering easily sloughs rain and snow.
Junction Box + Solar Intensity Indicator - Several key components work together to ensure you have the best solar charging experience, including the Solar Intensity Indicator. These 4 LED lights are indicative of current solar conditions and give you an idea of how well your gear will charge.
Charges the following:
Switch 10 Core 4-6 Hours
Flip 10 Power Bank 2.5-5 Hours
Flip 20 Power Bank 5-10 Hours
Guide 10 Plus Power Bank 3-6 Hours
Rock Out Portable Speaker 2-4 Hours
Lighthouse Micro Lantern 3.5 Hours
Lighthouse Mini Lantern 4-6 Hours
Lighthouse 400 Lantern 7-14 Hours
Ports
USB Port: 5V, up to 1.4A (1400 mA) (7W max)
2.5mm (super, guide 10 charge port): 8-9V, up to 0.8A (800mA) (7W max)
General
Product SKU: 11806
Weight: 12.8 oz (363 g))
Dimensions (unfolded): 13 x 8.75 x 0.5 in (33 x 22.23 x 1.27 cm)
Dimensions (folded): 6.5 x 8.75 x 0.75 in (16.5 x 22.23 x 1.9 cm)
Certs: CE, FCC, ROHS
Warranty 12 months
No reviews have been written for this product.
Be the first one! – Write a Review