Home // Camp // Games, Toys, and Discs //
Head Strap Mount With QuickClip (Item #ACHOM-001)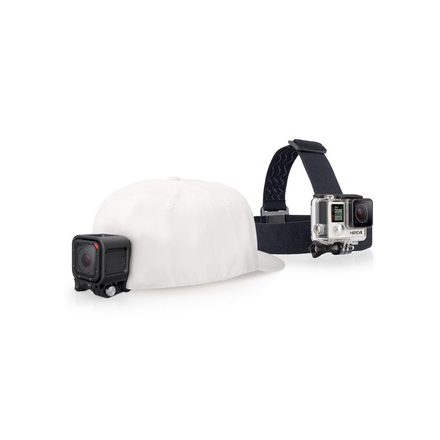 Now Viewing:

Default
Head Strap Mount With QuickClip
Our Price


$19.99



Item # ACHOM-001
Description
Item Specs
Product Reviews
Wear your GoPro on your head or attach it to a backwards baseball cap. Includes a Head Strap and a QuickClip for a variety of head-mounting options. Fully adjustable to fit all sizes, the Head Strap can be worn over a helmet or directly on your head to capture footage from a headlamp-like perspective. The QuickClip enables ultra compact, low-profile mounting, and can be used to attach your GoPro to a backwards baseball cap or other 3mm to 10mm thick object.
Features:
Head Strap is fully adjustable to fit all sizes
Head Strap can be worn over a helmet or directly on your head in a headlamp-like position
QuickClip allows you to attach your GoPro to a backwards baseball cap or other 3mm to 10mm thick object
QuickClip enables ultra compact, low-profile mounting
Includes: Head Strap, QuickClip, Thumb Screw
Average of 1 customer reviews:
---
Peter N. - Staff
Chesterfield
October 2019
Awesome mount!
5
/
5
Avg. Product Rating
Age Range:
13-25
Gender:
male
How Long Have You Been Using This Product:
More than 2 years
This mount is awesome for catching great footage while climbing. Although its kind of hard to use with a climbing helmet on but overall it is great.
---