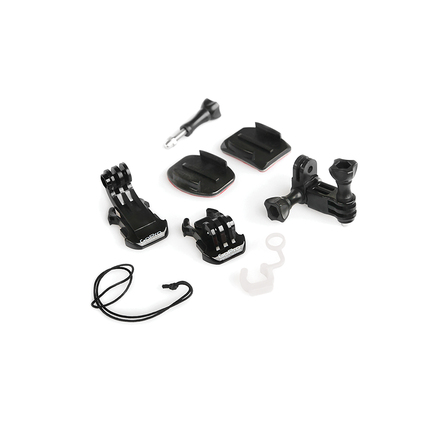 Now Viewing:

Default
Grab Bag of Mounts
Reg. Price
$19.99
Sale Price


$11.98 (40% off)



Item # AGBAG-001
Description
Item Specs
Product Reviews
The Grab Bag is bag of add-on parts for GoPro camera owners wanting more mounts or looking for replacement parts for your existing mounts. It includes a Curved Adhesive Mount, Flat Adhesive Mount, 3-Way Pivot Arm, Quick Release Buckle, Vertical Quick Release Buckle, camera tether, thumb screw and locking plug.
Whats Included:1 Flat, 3M Adhesive Mount
1 Curved, 3M Adhesive Mount
1 Horizontal Surface Quick-Release Buckle
1 Vertical Surface Quick Release Buckle
1 Thumb Knob with Nut and Bolt
1 Pivot Arm Assembly
1 Quick-Release/Vibration Plug
1 Leash Tether
Materials: polycarbonate with stainless steel nuts and bolts
Includes: 1 flat surface base plate, 1 curved base plate, a thumb knob and stainless steel hardware, 1 quick release buckle, 1 pivot arm assembly, 1 quick-release vibration plug, 1 leash tether, and a vertical J mount
Average of 1 customer reviews:
---
David L. - Staff Review
Chesterfield, MO
February 2015
Extra Mounts!
5
/
5
Avg. Product Rating
Age Range:
13-25
Gender:
male
How Long Have You Been Using This Product:
More than 2 years
GoPro mounts are to GoPro cameras as paintbrushes are to a painter. They're a necessary tool for the artist to fully achieve a greater understanding and a more in-depth study of the work at hand. Two adhesive mounts allow for you to add new and exciting views. One is for a rounded surface and the other is flat. For example, I use my rounded adhesive mounts on my drums to allow for a greater understanding of where I may be going wrong or where I can improve. Simply put, the Bag O'Mounts can add to your collection or replace things that you've lost or broken, like yours truly, without breaking the bank.
---