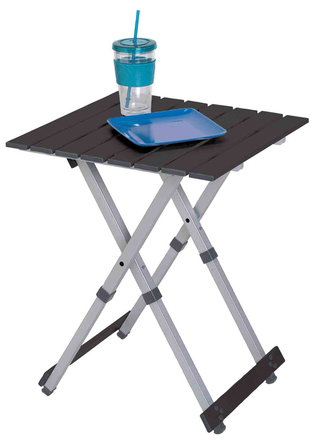 Now Viewing:

Default
Compact Camp Table 20
Our Price


$40.00



Item # 39126
Description
Item Specs
Product Reviews
The Compact Camp Table 20 features a unique one-piece compact design. This table folds to 1/2 the size of other camp tables. When legs are extended, this is a great table for two or use as a side table. Lightweight, aluminum frame supports up to 60 lb (27.2 kg). Folds up quickly and easily with its patent-pending Squeeze Telescoping Technology. Just fold the table top down, squeeze the table tops together and push up on the legs to close for storage. Ideal for camping, RVing, tailgating, fishing and sporting events.
Features:
Aluminum-frame and table top
Telescoping leg design allows a full-sized table to fold compactly
Seats two people or use as side table
Material: Aluminum-frame and table top
Weight: 4 lb (1.8 kg)
Open Size: 18 x 19.9 x 23.8 in (45.7 x 50.5 x 60.5 cm)
Folded Size: 18 x 2 x 17.9 in (45.7 x 5 x 45.5 cm)
Weight Capacity: 60 lb (27.3 kg)
Average of 1 customer reviews:
---
Beth R. - Staff Review
OFallon, IL
July 2015
Car camping table
3
/
5
Avg. Product Rating
Age Range:
45-54
Gender:
female
How Long Have You Been Using This Product:
More than 2 years
I was given this as a gift, I probably would not have purchased this for myself. We are primarily backpackers in my family so this is something we would rarely need. It is nice to have around the house and I have brought it out for BBQs and big family events but it isn't something I have room for in my car. If I owned a camper, I'd probably like it a lot more but it really doesn't fit my lifestyle.
---