Home // Travel // Travel Organizers //
Pack-It Specter Cube Set - Base Colors (Item #41168)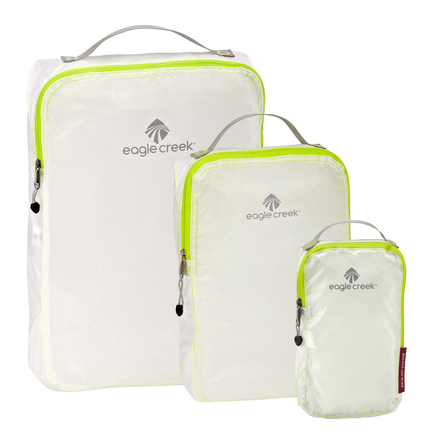 Now Viewing:

Default
Pack-It Specter Cube Set - Base Colors
Our Price


$39.95



Item # 41168
Description
Item Specs
Product Reviews
Ultra lightweight packing organization. Three silnylon cubes that weigh less than 2.2 oz cumulatively, so that you can keep your clothing organized without worrying about weight. This translucent fabric is the same fabric used for lightweight tents and backpacks, it is super-durable, and stain and water-repellant.
Features:
Packing cubes are great for t-shirts, pants, gym clothes, undergarments, and socks
Ultra-light water repellent silnylon ripstop
Quick-grab handle
Material: Ultra-light water repellent silnylon ripstop
Weight: (Cube) 1 / (half cube) 0.6 / (quarter cube) 0.6 ounces
Dimensions: (Cube) 14 x 10 x 3 / (half cube) 10 x 7 x 3 / (quarter cube) 7.5 x 4.5 x 2.5 inches
Average of 2 customer reviews:
---
Melissa W - Staff Review
OFallon, IL
May 2017
Space saving!
5
/
5
Avg. Product Rating
Age Range:
26-34
Gender:
female
These are awesome space savers and organizers for your luggage, especially for a duffel style bag. It cuts the bulk of your luggage in half. Clothes that are rolled rather than folded can be compressed into smaller spaces a lot better. Not that I intend to stuff my luggage to the brim, but its nice having a clean, organized bag and not just clothes and socks piled on top of each other. This triple set is great to pack 4 or 5 shirts, light pants, underwear, maybe squeeze some socks in too. Best thing is they weigh almost nothing, but theyre durable and ripstop.
---
lily- staff
Columbia
October 2019
luv it
4
/
5
Avg. Product Rating
Age Range:
13-25
Gender:
female
How Long Have You Been Using This Product:
More than 2 years
Awesome product to help condense clothes when packing. Makes organizing a suitcase SO much easier! Cant go anywhere without these.
---