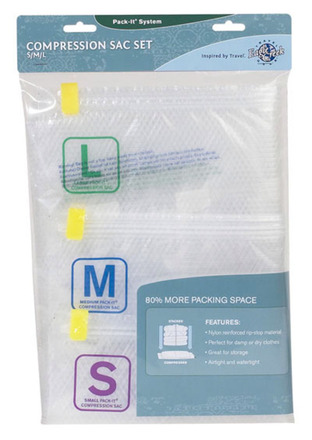 Now Viewing:

Default
Pack-It Compression Set
Our Price


$29.95



Item # 40388
Description
Item Specs
Product Reviews
Remove excess air from bulky garments using Eagle Creeks Pack-It Compression Sacs and pack down up to 80% of your packing volume. These durable nylon-reinforced compression bags are handy for saving space or for getting your dirty laundry home without mixing it with the rest of your bag. So next time you want to bring an extra jacket, you can! Just put it inside a compressor sac, zip it closed and roll it. Youll hear the excess air releasing through the one-way patented valves. We aim to please!
Features:
Nylon yarns reinforce against tears
Reduces volume up to 80%
Patented one-way pressure valve
Patented zip closure at top
Material: Polyethelene (nylon reinforced)
Weight: 6 oz / 170 g
Capacity: 165 cu in / 2.5 L (small) | 380 cu in / 6 L (medium) | 800 cu in / 13 L (large)
Dimensions: 11.5 x 14.5 in / 29 x 37 cm (small) | 15.5 x 24.5 in / 39 x 62 cm (medium) | 17.5 x 28.5 in / 44 x 72 cm (large)
Average of 1 customer reviews:
---
Liza - Staff Review
Columbia, MO
February 2015
So You Can Take the Kitchen Sink!
5
/
5
Avg. Product Rating
Age Range:
26-34
Gender:
female
How Long Have You Been Using This Product:
More than 2 years
These are absolutely indispensable when you're trying to pack your life into a carry-on! When space is at a premium, I use these to squash down my clothes and accessories, unless I'm trying to prevent wrinkles, then I use Eagle Creek Pack-It Folders, so I can get every available inch out of my suitcase. Pick these up next time you need to make the most of your luggage real estate!
---