Home // Climb //
Rocklock Screwgate Carabiner (Item #210275)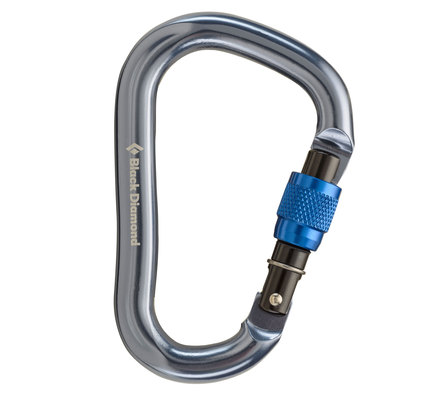 Now Viewing:

Default
Rocklock Screwgate Carabiner
Our Price


$11.95



Item # 210275
Description
Item Specs
Product Reviews
BDs largest belay and rappel locker, the RockLock features a keylock nose and is Munter Hitch compatible. With a spin of the fingers, the screw gate can also be operated with just one hand.
Features:
Square hinge end holds belay loop securely in place
Slightly curved spine maximizes gate opening
Keylock nose prevents snagging
One-hand operable
Color is slightly darker than pictured
*****Please note that this item is not returnable. For the safety of our customers: Life-protecting and/or weight-bearing equipment (such as ropes, carabiners, harnesses, and helmets) cannot be returned or exchanged.*****
Weight: 89 g (3.1 oz)
Open Gate Strength: 7 kN (1574 lbf)
Major Axis Strength: 24 kN (5395 lbf)
Minor Axis Strength: 7 kN (1574 lbf)
Gate Opening: [Twistlock] 21 mm (0.83 in)
Average of 3 customer reviews:
---
Paul M. - Staff Review
Columbia, MO
February 2015
Great locking carabiner
5
/
5
Avg. Product Rating
Age Range:
26-34
Gender:
male
I use these as my bolt-end carabiners for top-roping and they've been great. The screw locks haven't jammed up or anything, no problems at all. They're a little heavy but they're solid. I will definitely be buying more of these when I need more locking carabiners.
---
jenny - staff
columbia
February 2018
Great piece of gear
5
/
5
Avg. Product Rating
Age Range:
13-25
Gender:
female
How Long Have You Been Using This Product:
4-6 months
Carabiner is great, I use it a lot.
---
Lindsey G- Staff Review
OFallon, IL
December 2017
Reliable and easy to use!
5
/
5
Avg. Product Rating
Age Range:
13-25
I love this carabiner, it is reliable and easy to use. This carabiner will help anyone needing to belay someone while climbing. It is lightweight and I recommend it to anyone!
---