Home // Climb // Rope and Webbing //
Dynex 10 mm Runners - 60 cm (Item #380022)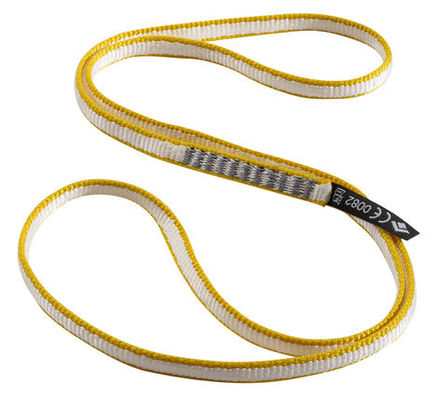 Now Viewing:

Default
Dynex 10 mm Runners - 60 cm
Our Price


$8.95



Item # 380022
Description
Item Specs
Product Reviews
An essential part of any alpine climbers rack, Black Diamond Dynex Runners are indispensable for building anchors, slinging natural features or extending placements to reduce rope drag. This highly abrasion-resistant, lightweight material wont weigh you down and absorbs less water than nylon, making it perfect for big routes and snowy or icy terrain. Each size is also color-coded for quick and easy identification on your harness.
Features:
Dynex is highly abrasion-resistant, strong and lightweight
Color-coded for easy size identification
60 cm / 24 inch runner is gold
*****Please note that this item is not returnable. For the safety of our customers: Life-protecting and/or weight-bearing equipment (such as ropes, carabiners, harnesses, and helmets) cannot be returned or exchanged.*****
Materials: Dynex is highly abrasion-resistant, strong and lightweight
Weight: [60 cm] 19 g (.7 oz)
Average of 2 customer reviews:
---
Josh S. -Staff
Chesterfield Staff
May 2019
Great sling to add to the quiver
5
/
5
Avg. Product Rating
Age Range:
13-25
Gender:
male
Black Diamond has been making great product for a really long time and this is no exception i bought 2 of these sling when i started lead climbing 1 year ago and i couldnt have asked for a better product theses are super light and has always provided me with the protection i needed if i was either building an anker or just using it as another quick draw this has always worked great. All and all i would highly recommend this product.
---
Emmett - staff
Columbia
August 2018
Does what it needs to do
4
/
5
Avg. Product Rating
Age Range:
13-25
Gender:
male
How Long Have You Been Using This Product:
More than 2 years
When it comes to climbing, you can never have too many slings. Whether you need to extend a placement, make an impromptu draw, or need some directs attached to your harness, a sling is the answer. The dyneema that this is made of is also very lightweight, and a bit more durable than nylon. The stitched section that makes up the dogbone can be troublesome on this, but it is unavoidable and is only a few inches long.
---