Home // Snowsports // Ski Boots //
Live Fit 100 Boots - Men`s (Item #AE5016620)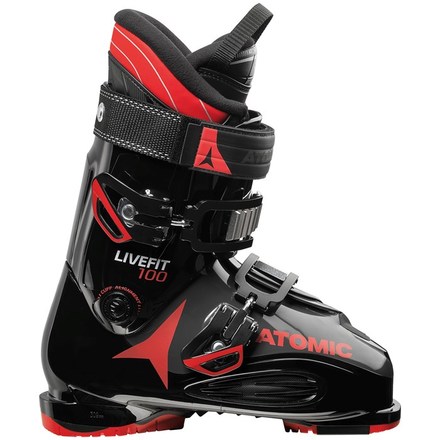 Now Viewing:

Default
Live Fit 100 Boots - Men`s
Reg. Price
$475.00
Sale Price


$271.98 (43% off)



Item # AE5016620
Description
Item Specs
Product Reviews
The Atomic Live Fit 100 is a great all-mountain ski boot for anyone needing a wider fit. What makes it special is that the moment you put it on it will instantly and automatically fit to your foot, then continuously adapt as time goes on to keep your feet comfortable and your blood flowing freely. Its thanks to our unique Live Fit zones that instantly adjust to the width of your foot and the Dynashape foam in the liner. The two oversize buckles then make the boot easier to put on and take off, while performance and foot-hold remain exceptional. Plus its WTR compatible when used with WTR Grip Pads.
Features:
Live Fit Zones
PU Cuff / PU Shell
Bronze Liner
40 mm Velcro Strap
6000-Series Alu Buckle
Last: 102 mm Extra space at the forefront and instep, plus a wide tongue and fluted calf.
Flex: 100 A medium-stiff flex for solid power and response.
Liner Type: Bronze Liner Features Asymmetric Liner Construction with an asym tongue, toe box, collar shape and high-quality lining materials.
Strap: 40 mm Velcro Strap
Shell Material: Polyurethane
Cuff Material: Polyurethane
Buckles: 6000-Series Aluminum Mega Buckles A twin-buckle design featuring light, easy-to-handle buckles that still provide secure foot hold.
Stance:
Forward Lean Angle 15Degrees
1 mm Offset Shell Truer Stance
3 Degrees Shell Rotation
Customization:
Live Fit Zones These zones automatically adapt to your forefoot shape providing instant comfort, improved feel, better blood flow, warmer toes and happier feet.
Size Adjuster Under-the-footbed adjusters that make the boot precisely half a size smaller.
No reviews have been written for this product.
Be the first one! – Write a Review